Original Resume Templates.
100% Free Download!
Handcrafted resume templates that will help you stand out.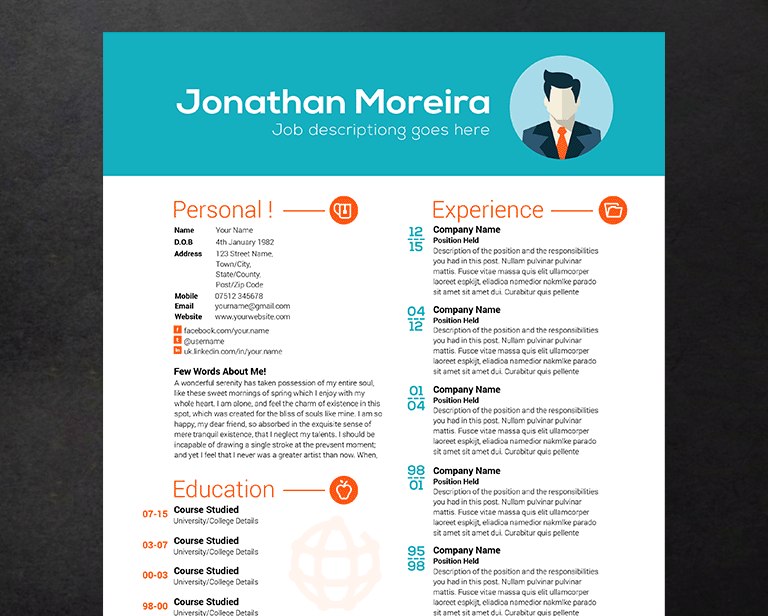 Colorful resume template, three main sections, a skill index, and beautiful graphic elements to direct the eye.
Writing a professional CV template that will get you the job interview.
Everyone knows that looking for a job is never an easy thing to do. However, it is always important to stay professional, no matter how tiring or hard that might be. Business is about professionalism. Since the first step into communicating with your potential employer is through your CV or resume, then it has to show him or her how professional you are. This is where our CV template comes in. Since every CV template found on this website is designed by a professional graphic designer, then you will be guaranteed a professional CV. Not only do we provide you with a professionally designed CV template but also with tips to help you stay professional in your writing. The tips that you will read along the way will help you decide what to mention and what not to mention in your CV. This will help you get an interview with your potential employer. During the interview as well, you will have to keep it professional. As you write a good professional CV using one CV template of the many available, you will establish a sense of a professional business character that will help you later in your interview, and in the end, it will land you the job.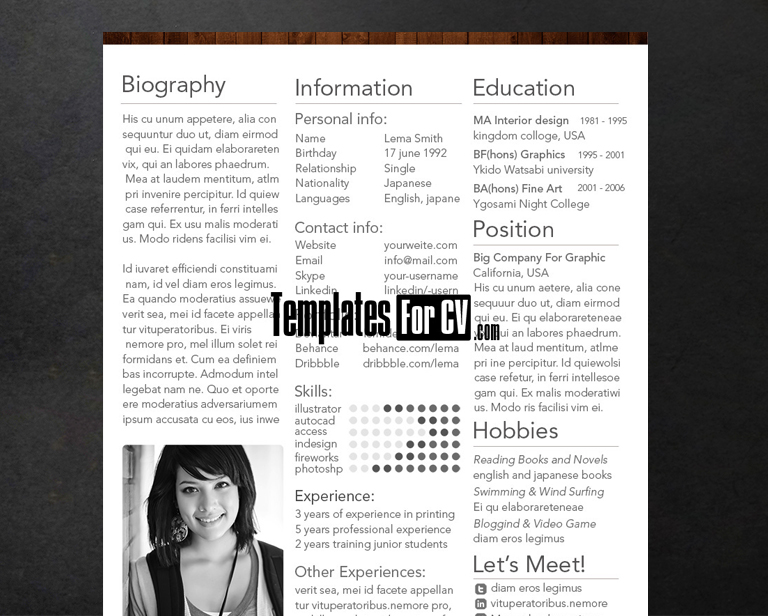 A unique resume design that has three columns, a skill meter, and a profile picture placeholder.
Why is a CV template is important?
A CV template is very important for everyone. Sometimes, the CV that you present can be the thing that helps your potential employer decide whether to hire you or not. A CV can say a lot about you. The way that you present it can make it obvious to notice if you are organized, neat, creative, and many more things. So, since your CV will say a lot about you, it should be close to perfect. But what if you don't know how to design a well-written CV? Or What if you don't know how to write a good CV? What if you possess one skill, designing or writing, but not the other? Or, what if you don't have enough time to complete a CV that looks professional?
Imagine yourself working on a huge and very important project which would be a turning point in your life. However, you have to start this project from scratch and have nothing and no one to help you. Suddenly, someone who is very experienced and has already worked on many similar projects comes along and gives you guidelines to help you do your project and make it perfect. Wouldn't you be grateful to that person? More importantly, wouldn't you try to benefit from what he or she tries to offer to the fullest extent? It is similar when it comes to a CV and a CV template. Writing your CV is very important because it could mean whether you get the job or not. Instead of having to start from scratch, you will be able to benefit from a CV template and consult many designs. Every CV template is designed by professional graphic designers. Not only will you find the CV designed, but you will also be offered tips and guidelines to help you write a great CV. Choosing a CV template from this website will make writing a CV so much easier, which is why a CV template is pretty important.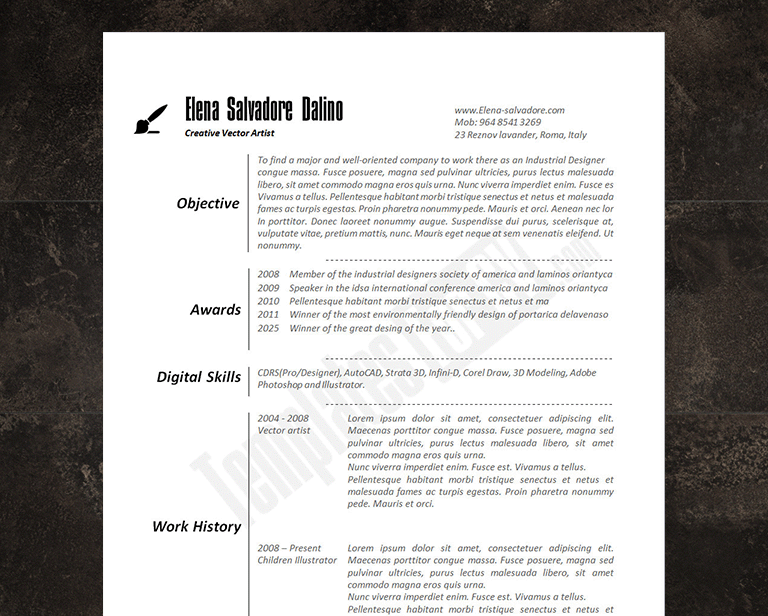 This traditional resume template has an objective, award, and experience section, a design classic that's still very popular.
Who can benefit from a professional CV template?
Many people have difficulty writing their CVs. So they keep on postponing until they really need it, and by that time, they will still not have anything written. This is where the CV template comes in. Even for the people who already have a CV written for them, it is very beneficial for them to consult the CVs offered on this site because all of them are designed by professional graphic designers. That is why all people, anyone, should take a look at the multiple CV templates which are offered here. Even if you think your CV is impeccable and there is nothing to be added to it, or it does not need any adjustment, it would not hurt to look at our wide collection of professional CVs and resumes.
So, people who are currently looking for a job and need to present a professional CV to their potential employers can benefit from a CV template available on the website. People who would like to update their CV into a more professional, well-designed one can also benefit from this website. It doesn't matter if you are still in school, have recently graduated, or have been working for years. You can always write a better CV and add your information, skills, and experience into a very professional CV form.
Not The template you are looking for?
Check out our regularly updated resume library. We're sure you'll find something you like