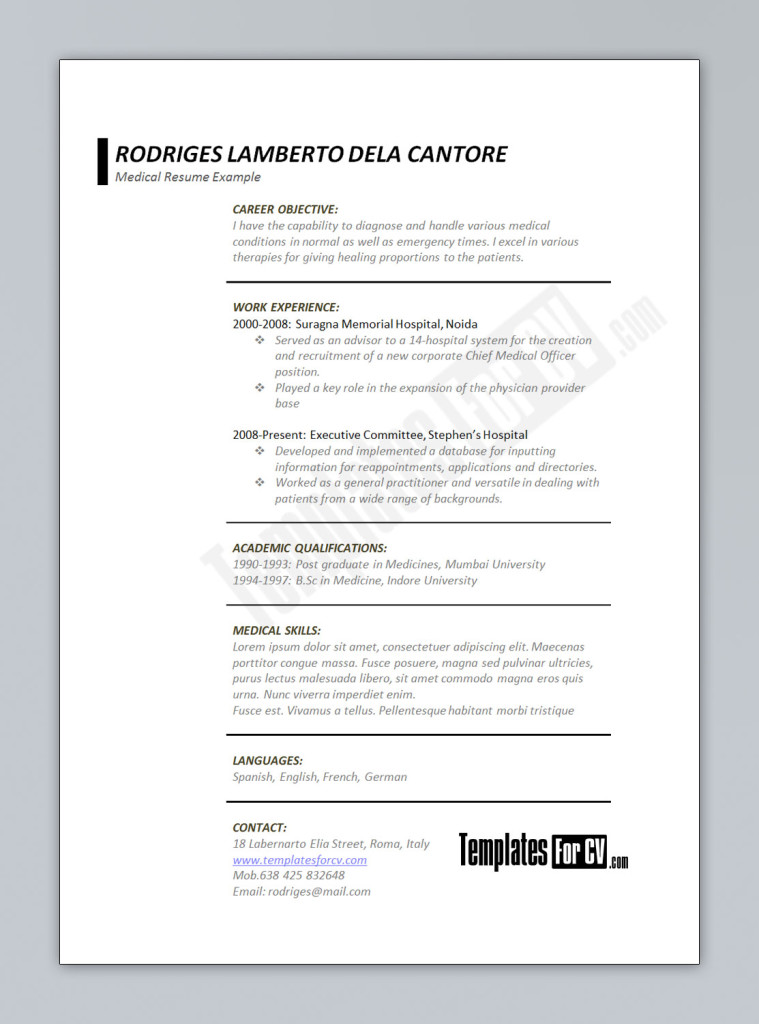 How to Write a Medical cv template
As a doctor you must have crossed many years of learning and practice. A job application is never complete without a resume. A doctor's resume is similar to and ordinary resume. Except here you get to have the advantage to write about more of your experiences. Since you're a doctor you have more to write about than an ordinary student application. This will make your accomplishment section look more interesting.
First of all as usual, start of your resume with a simple 7 to 9 line paragraph of brief description of your characteristics and abilities. If you are multilingual make sure you add that, it always helps to have a multilingual person in a job. It helps him communicate with different patients from various countries. Than if you have worked before in the field list the areas of expertise you have. List them in a bullet point format. Than continue with the academic certifications and licenses. List them with the university or board you got them from, plus add the dates on which you got them.
You need to list whether you specialize in the field of surgery or in the field of medicine. A Medical cv template must include the accomplishment he has done and the experience he has. For example any experience in surgery or additional practice in diagnostics will be appreciated. Not to forget any previous student teaching (junior students).
Medical cv template: Additional Skills and Records
If you have any records of the success and failure rates in surgeries, add it if you think it adds to the significance of the resume. Assess the position you're applying to, and know your recruiter's skill requirement. Once you have, you will know on which skills you possess you will focus the most.
At the end of the resume if you have any additional info you want to add, you can. Your Medical cv template can have a set of experiences that you have had that might add to your balance. Such as any additional training, language skills as mentioned before, teaching posts, and knowledge in an area.
Now you know how to write a Medical cv template. It should be an easy task by now. Take a look at the free Medical cv template. It should give you some guidelines about the format and information in the resume. Feel free to add any additional thing that will make your resume even better. This should give you an advantage and help you right the best medical doctor resume possible.
Medical cv template
New York City, NY Phone: (###) ########
Qualifications Committed cardiologist, with a
scholarship through B.S and M.D years, know multiple languages. Currently seeking to learn interventional emergency. Deep understanding of the cardiovascular system and cardiovascular surgery intervention.
Certifications include:
Masters in Biology, M.S, American University of Lebanon, June 1995
General Medicine, M.D, American University of Lebanon May 1999
Cardiology, (Board Certified), American Board of Cardiology, June 2001
Professional Experience Capitol City Hospital North Washington University, Washington DC
Fellow, Interventional cardiovascular surgeon
Perform procedures in cardiac, vascular and venous interventions. That contains embolization, varicose vein embolization, and stent grafts.
Make daily patient care rounds.
Work with teaching staff
General Hospital
Medical College, Massachusetts
Chief Resident/Resident, Diagnostic cardiology (third, and fourth year)
Elected Chief Resident with service from January-December 2000
Instructed junior residents in medical procedures Studied and participated in:
Pediatric skills
Cardiology analytic and decisive skills
Interventional medicine
Minor surgery interventions
Nuclear medicine