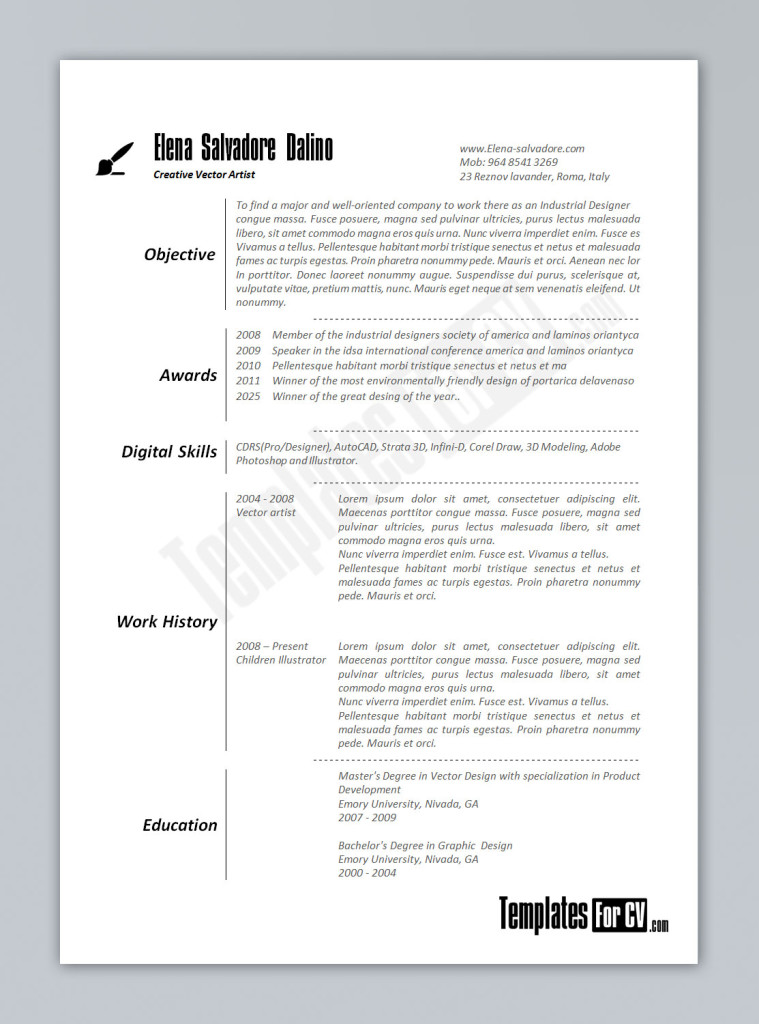 How to Write an Artist CV
You have an eye for beauty and you are applying for a job? So how to write an Artist resume? Writing an artist resume is not difficult. Once you know how to organize your ideas and list the correct info you will be ready to write your own one. So in order to make your job easier, you might want to take a look at the artist resume template. This article will help you write a resume and will focus on the skills required for a photographer job.
So before starting out, take a scratch paper and write down all your skills. An artist resume should include the different skills that a photographer has. Then after finishing this brainstorming step circle the skills you want to include in your resume. Believe me this step is as important as the others.
Start out by listing your contact information at the top of the paper such as name, phone number, address, and e-mail address. Then write down the title of the resume which is" Artist Resume" bold the letters and increase their size. It is advised to stick to the artist resume sample if you have no format in mind. So now start with the objective. The objective must include the reason why you are applying for the job plus a brief 2 to 5 sentences about yourself. Not to be confused with skills. The brief 2 to 5 sentences must include words such as dedication and passion for photography etc… don't list any skills yet.
The Most Important Section in an Artist CV: Qualifications
Artist resume isn't complete without talking about the qualifications. Under a new section called qualifications write the skills you brainstormed earlier. For example, you should list some skills like setting out lights and cameras, understanding of the tools and equipment, plus skills in digital image and video editing… etc. Write down all the skills you think are helpful. This should be an easy task once you have taken the time to brainstorm. Write the skills in a bullet point format. Don't make long sentences, make them short and interesting. Refer to the template to get an idea about the style.
Now in your artist resume, you should include an education section. Under which you write the academic degrees you have. If any, write them down and make sure to list the date and university or college you graduated from. Now that you have finished all these steps, there is one last section. In this section, the experience section, you should write about any jobs or tasks you have done. Make sure to indicate the name of the recruiter and the job task briefly. If you have been awarded for the job or received any prize it's very important to list it. This will definitely grab the recruiter attention.
Now that you have finished reading how to write a artist's resume, you can write your own resume. You now know what to write and how to organize your ideas. Try to make your resume as neat as you can. Check the resume template for further guidance. good luck with your new job!
Elena Salvador Dalino Email:[email protected]
New York City, NY Phone: (###) ########
Artist Resume
Objective
Freelancer with 5 years' experience in studio and events photography seeking a full-time position as a photographer in a company that is developing professionally
Qualifications
Recognized with several awards for producing high quality, superior imagery
Determined, creative and dedicated individual
Expert in Photoshop editing, and image manipulation
Expert at defining themes and undertaking or supervising photography and high volume post-production editing
Experienced in communication with others, and persuasive skills
Education
ALBA College, Dubai
Degree in Photography (June 2001)
Languages:
Experience
Photographer: June 2001- Present, TT studio, Japan.
Responsibilities include:
selecting and assembling equipment, adjusting focus and background, setting up lighting to suit the subject, and setting up additional props and subject materials in desired position
Estimating and measuring light level, distance and exposures required, all using devices and measurement tools and equations
Coordinating and directing staff and taking care of office services to help executives
Prepare records, such a client orders
Analyze the procedures and assess them to come up with better solutions
*References available upon request