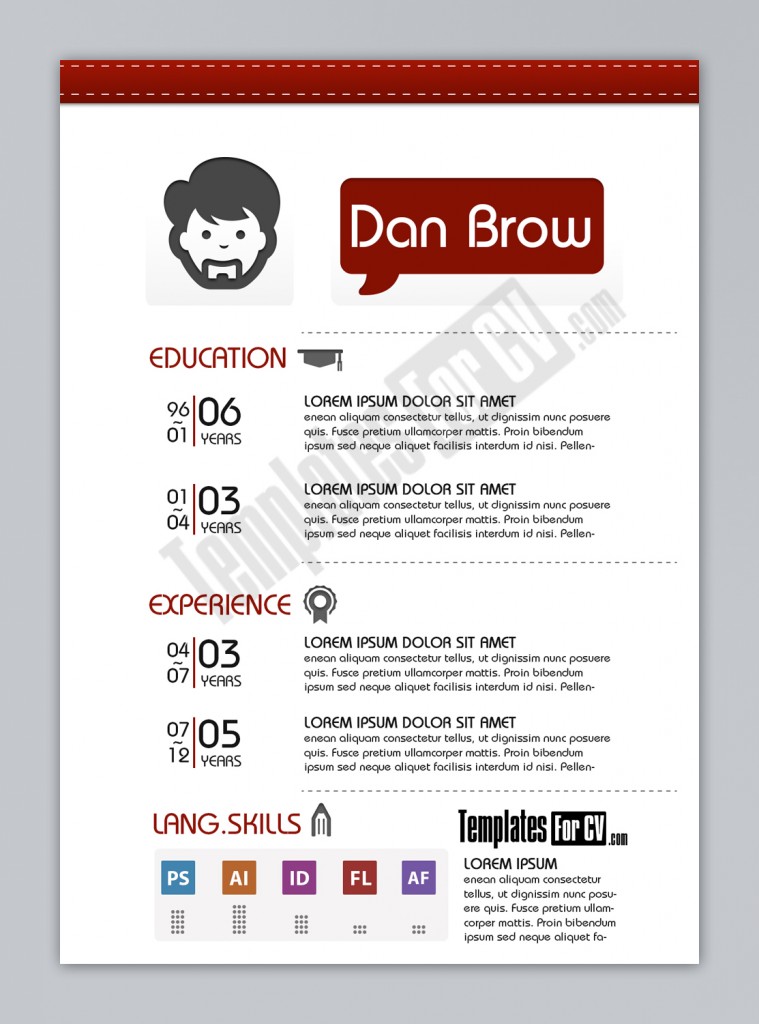 Writing Graphic Designer Resume
You're a graphic designer and in need of a job and you are entering the competitive resume application process. Remember it's not an easy task for there are hundreds of people out there competing for the same job post your applying to. So now the only thing left to do is sending a graphic designer resume that will give you the leading edge. Now if you are a graphic designer and you chose this path solely because you enjoy it than worry no more because this will make your task much more easier, and if you haven't this article will help you write down a resume that will put you in the lead.
First, of all if you have any recent projects that seem to have grabbed the attention of any of your friends or family, group them in a file. Those can be sent with your graphic designer resume to represent your skills and creativity. Try to include the dates and time to your projects this will help the recruiter see the time a project takes from you. Since a good graphic designer delivers a good work in a short time this is what companies aim for when searching for a graphic designer. Links, pictures, and videos can all take part in your resume if they are good enough. Make sure to include only the good work, don't bother in adding any of the other works because that might set the recruiter off, and pass over your resume to another one.
Now you should be aware of the characteristics that companies search for in graphic designer resumes. As mentioned before, deadlines are the most important factor, as many other jobs do have deadlines for their projects, and employees should respect them so make sure to list it in your graphic designer resume. Precision and accuracy intertwined with creativity, those traits are found in the best of graphic artists, those who deliver work according to the clients' precise requests adding their own signature of art above it. So as you can see timing, precision, and creativity are the most important traits; any other respectful one is also appreciated in a resume. Also communication skills are important and play a major role here because most of the graphic design job requires you to work in groups. So it is important to mention that you can easily communicate with your fellow workers.
Tips To Enhance Your Graphic Designer Resume
If you had any reviews over your work, or any media attention make sure to include it inside your graphic designer resume. Also if you had an education in a university or college that is known for graduating top graphic designers, don't hesitate to mention it. just don't overdo it, don't show off or brag, just mention it and keep going with your resume. You don't want to focus on one point; you need to make your resume look full of accomplishments and many experiences and client-jobs you have finished.
Try to convey yourself as creative and fun, but also serious and respectful in your graphic designer resume. It might seem contradicting at first, but you should show that you enjoy the tasks and projects give to you and you enjoy the sense of creativity lend to you throughout your projects but you also respect deadlines, which are as mentioned before the most important factor. So you get a job well done on the required time.
Now you know the do's and don'ts about a graphic designer resume and what it requires to be written in terms of skills. So now that you know, you should mention them in your resume and try to convey your strengths points. This will definitely add to your advantage and put you in front of the competition.

John Doe Email:[email protected]
New York City, NY Phone: (###) ########
Graphic Designer Resume
Education
BA Degree, Graphic Design
Name of University, New York, NY, June 2014
Honors: Academic Dean's Honor list
Skills Highlights
I am highly energetic and motivated, fast learner, strong attention to detail, good communicator, and thirst for learning and enhancing designs passionate and dedicated to designing and developing new ideas
Areas of Expertise:
Fast design delivery
Design according to customers view with an artistic twist to it
Excellent at cross-team work
Experience:
C.G's Design Studio
I helped in providing the workshop with the designs and graphics they needed for the project. I also aided in creating some ideas and development of the website.
PixelZ Studio
Designed the user interface and engaged in the concept design of the application created
Developed the website accompanied with the app
Professional Teacher assistant
Culinary Club, New York, NY 2009-2011
Set out various lessons
Taught private lessons
Taught proper preparation techniques and understanding tools
Tutor
Self-employed, 2007-2009
Tutored many of my colleagues and helped out many of my friends during reading periods