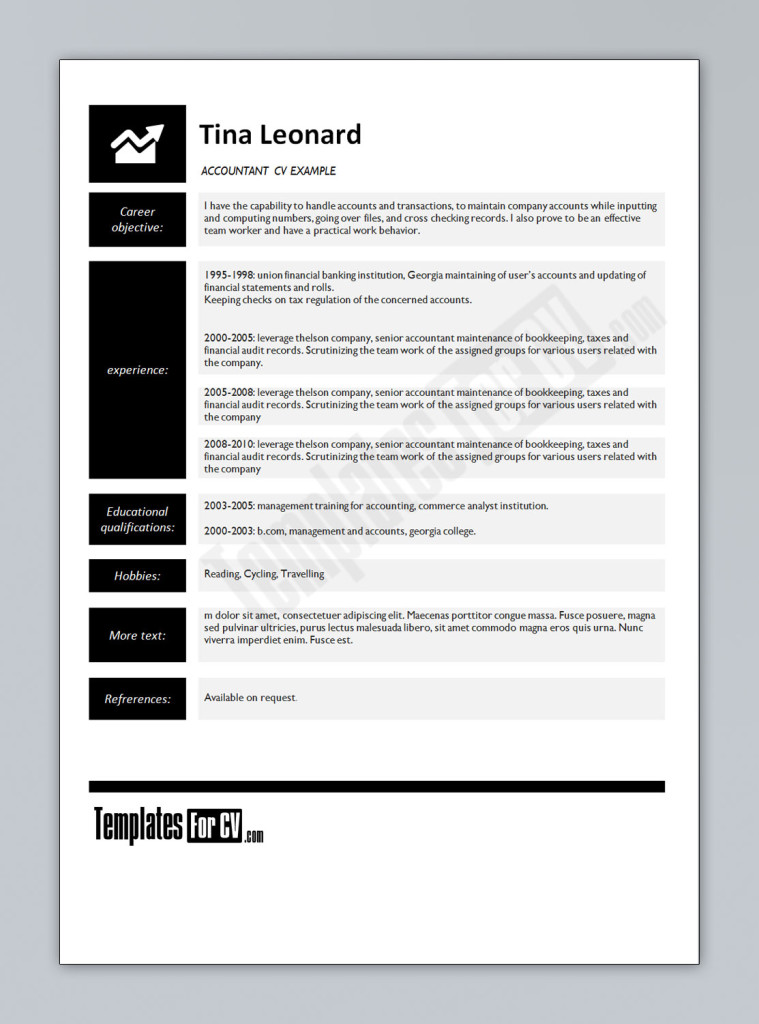 How to write An Accountant CV
You are an accountant and planning to apply for a job. An accountant's CV can be tricky to write. However, it's not that hard. Once you know the trick to it. It becomes easy to write down. So this article will help you make an accountant resume for the job application.
An accountant's CV must include numbers. Numbers are what will turn eyes onto your resume and attract attention. Statistics, charts, or even just plane numbers are good. These numbers should signify your positive effect. They are evidence of your good influence in your prior job. You should include motivating numbers. This is for the recruiter to be interested in your previous results.
List your good traits. An accountant's CV is nothing without that team-inspired traits. One important skill is communication. This sets you apart in the client/executive relationship. Try to put in there the characteristics that you think are important for the company. Money handling and budgeting is one aspect that lots of firms out there looking for. Another is strategic planning and project management. All these aspects can be listed in your executive resume. Motivation and the ability to work with cross-functional teams are also important.
Useful Data to Add to Your Accountant CV
If you helped an institution recover from serious problems, you can add that to your resume. Your executive resume will benefit a lot from any positive result turn-around. Make sure you list such events and back them up with the needed numbers. Lifting up a company after bankruptcy or even increasing sales. You also have to reduce expenditure. Even quality enhancement can be seen as a good executive role.
Each accountant has an area of expertise. Thus an accountant's CV must include yours as well. Try to list your specialties in order of priority. This makes the recruiter get interested from the beginning. Try to make the recruiter believe you are worthy of the job. Add in the aspects that will do so. You might be an expert in communicative skills. Others are good at developing plans. You also could be good at project management and turnaround situations.
An accountant's resume should include your academic degrees. Certainly, high degrees and minors can help you. But work, results, and former experiences count the most in this domain. So don't focus on this section as much as focusing on your experiences and expertise.
Now you know all there is to it. Finally, after reading this article you can write your own accountant CV. Take your time, and don't rush it. Remember to back up your words with numbers. Show that you are more worthy, and will always deliver. Take advantage of this step. Resumes will represent your life work and what you have done. So try to come up with the best one possible. For further assistance check the accountant resume sample.
accountant CV
John DoeEmail:[email protected]
New York City, NY Phone: (###) ########
Career Profile
Manufacturing accountant, over twenty years of experience as chief of financial functions of manufacturing operations with up to 250 employees and $30 Million in sales, skilled in identifying constant change actions to decrease cost, and enhance quality. Enjoy implementing new improvements.
Education:
B.S in Accounting, Business, and Finance
Illinois, university, 2007
Areas of Expertise:
Cost Reduction
Procedure Enhancement
Leadership
Financial and Operations Management
Accomplishments
Upgraded on-time delivery, from 45% to 90%, removed annual losses exceeding $100,000, reduced shipping costs by 1.5%
Developed a financial evaluative modeling system; system reduced, increased procedure precision forecast and budget planning time by 50%
Raised staff's awareness to actions needed to reach optimal financial goals.
Placed an automated financial reporting program to download and upload data. Reducing time by 75%
Leadership
Ran multiple cross-functional teams and instructed team members, as appropriate, to develop skills and confidence in their ability to study work procedures, generate solutions, and measure improvements.
Planning and developing solutions
Financial and Operations Management
Improved to new workforce and accounting systems that reduced and improved tax reporting and corporate combination.
Aided in terminating an office that decreased costs by over $500,000.
Career History
Controller/IS Manager, Responsible of financial management in a manufacturing plant.
identified new processes to increase quality, increase boundary, and decrease costs
General Accounting Manager,
Synchronized the financial reporting functions of 16 locations and managed accounts
Assisted in organizing data and transforming them to corporate ones for ease of access and reading.
General Accounting Supervisor Supervised 15 people.
Estimating and planning, budgeting, and product line reporting for 16 locat