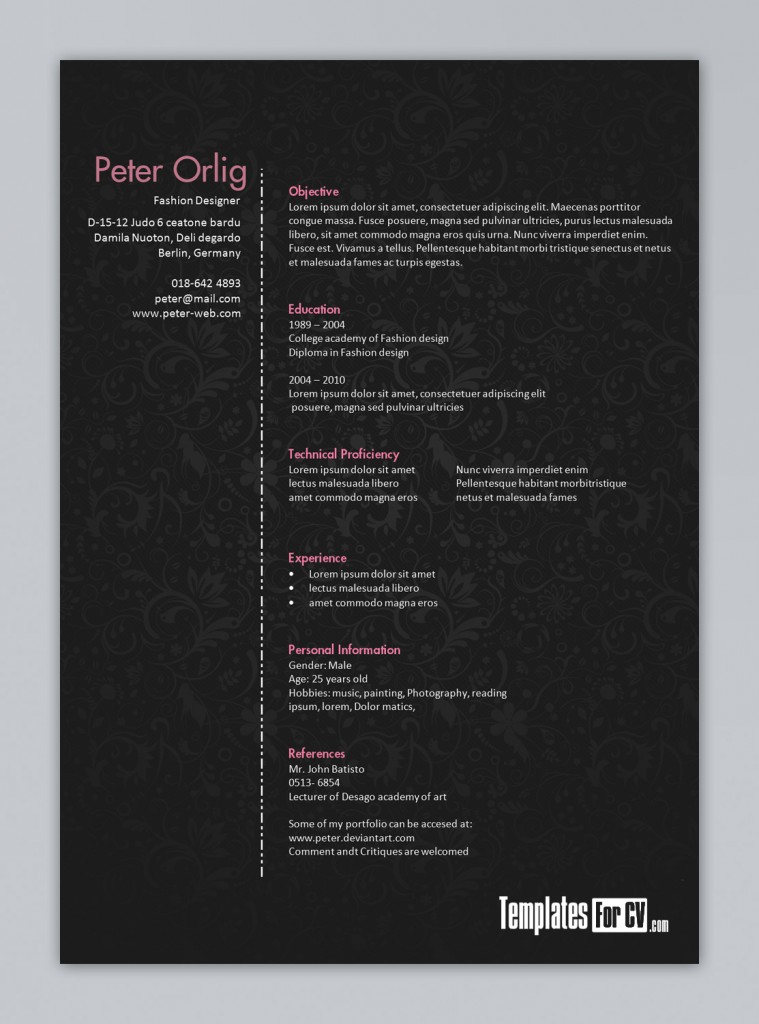 As a Fashion Designer you must have had many years of learning and now it's time to implement it. A job application is never complete without a resume. Since you're a Fashion Designer you have to write about the skills and values that make a good one. This will make your qualifications section look more interesting. First of all as usual, start of your Fashion Designer resume with the contact info listed at the top of the paper which include your name, address, phone number, and email address. Then write down the title of the paper "Fashion Designer Resume". Then write a simple 7 to 9 line paragraph of brief description of your characteristics and abilities. If you are multilingual make sure you add that, it always helps to have a multilingual person in a job. It helps communicate with different partners from various countries.
Your Fashion Designer resume must include any experience in the field. Than if you have worked before in the field of designing list the areas of expertise you have. List them in a bullet point format. Those skills can range from planning to applying conceptual design with high efficiency and low cost. Try to make your skills' bullet point as short as possible. You don't want paragraphs in each point. This will make your resume more interesting and neat.
Fashion Designer Resume : Second Part Experiences
A Fashion Designer resume is not different from any resume format wise. Continue with the academic certifications and licenses Section. List them with the university or board you got them from, plus add the dates on which you got them. Note that your degrees must be present.
In the next section which is the experience section, write down the job history and experiences you had in previous jobs. Any accomplishment or achievement should be listed because it will add value to your resume. Any conceptual design or cost efficient project you did can make you seem like the man for the job. Since producing high quality optimal projects is the aim of most companies. At the end of the resume if you have any additional info you want to add, you can. Your Fashion Designer's resume can have a set of experiences that you have had that might add to your balance. Such as any additional training, language skills as mentioned before, teaching posts, and any knowledge in an area. That additional info will set an advantage to your paper. Don't forget that you are competing for the job. Others are most probably applying to the same job. Now you are able to write your own Fashion Designer resume. Make sure you list all your good skills and characteristics. The Fashion Designer resume sample attached to this article will help out a lot. You can use it as a reference guide, and add your skills and accomplishments. Good luck and hope you get the job you're applying to. Now all that's standing between you and your new job is the interview. Hope you ace that too.
Artist Resume John Doe
Email:[email protected]
New York City, NY
Phone: (###) ########
Objective
Freelancer fashion designer with 7 years' of experience seeking a position as a fashion designer in a company that is designing professionally
Qualifications
Recognized with several awards for producing high quality, superior imagery
Determined, creative and dedicated individual Expert in Photo shop editing, and image manipulation Expert at defining themes and undertaking or supervising photography and high volume post-production editing
Experienced in communication with others, and persuasive skills
Education
ALBA College, Lebanon, North
Degree in Fashion Design(June 2001)
Languages:
Experience
Fashion Designer: June 2001- Present, TT studio, Lebanon.
Responsibilities include: selecting and assembling equipment, designing and planning, setting up lighting to suit the subject, and setting up additional props and subject materials in certain positions Estimating and measuring , material and fabrics, all using devices and measurement tools and equations Coordinating and directing staff, and handling office services to help executives
Prepare records, such a client orders
Analyze the designs and assess them to come up with enhanced solutions
*References available upon request