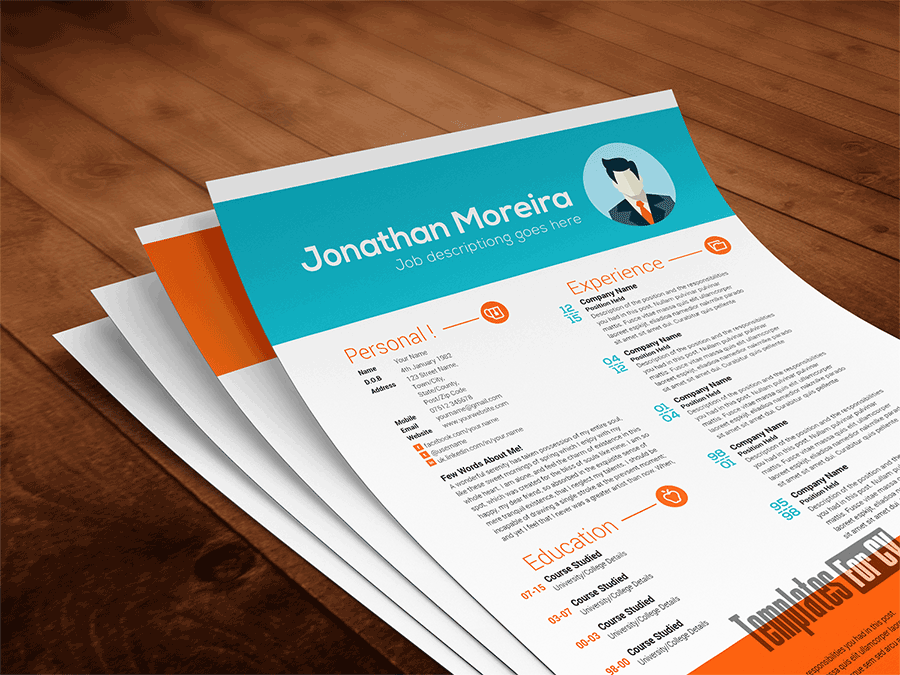 Professional Resume Template
Looking for a job is one thing and applying for one is another thing. Filling out a job application sometimes can be frustrating. Often most people search the web for resume examples and a professional resume template. Well search no furher, (always wanted to say that), we offer a free to download, fully editable, professional resume template. Simply dowload the file, open it using photoshop and edit it as you please. The template was designed to be easily editable, and can be fully customized, you can customize the color, the text, the pictures, and the small icons… you name it. Everything is editable to make a unique cv for every job application.
Why Make your Own Resume, When You Have One Ready to use?
Coming up with a resume structure and format is a painful job if your not used to it. Well, searching for one is equally boring. So, once you find one that suits your job stick to it. Well the not all resume templates are suitable for a professional job. You need a professional resume template that has the look and sense of a professional. Our website provides dozens of resume templates and CVs. you can pick which ever you one you like. This page provides a Free to downlaod professional resume template.
Professional Resume template: What to edit?
This file can be opened using photoshop, and our designers have developed these resume templates and divided everything you see in these templates into layers, inorder for it to be easier on youy when editing. This way you easily press on the layer you want to replace, delete, or edit. In this Resume template you have a picture of a small man in the top section.Simply replace this picture by a profile picture of your face. All the text below the profile picture is editable, meaning that you can delete it and fill in all your personal data and information you would like to write. If the colors dont suit you, you can also change them using photoshop. However, we advise you to keep the font and letter sizes that are preloaded wit this resuem template, since they maintain a nice look for the CV and will definitely grab the readers' eyes.
Why Use a Professional Resume Template ?
Well, aside from making your resume and job application a lot easier, the templates we offer have a nice apealing look that was designed by graphic artists. These colors and designs were carefully picked and planned out to give out an appealing look while maintaing the sense of professionality. Hope you found what your looking for… And ther you have it a fully customizable resume templates ready to be edited and used. For any further help or any questions feel free to leave a comment in the comment section at the bottom of the page.
Wish you Good Luck with the new job 😀
PHP Developer Resume Sample