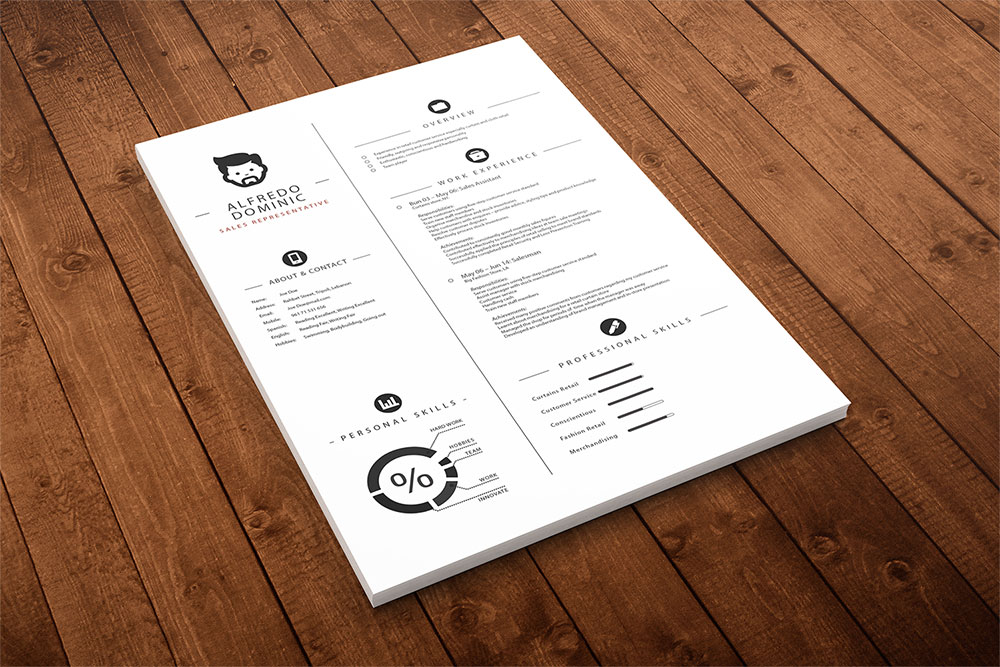 Free CV Template
This free CV template is fully editable and customization to fit your unique taste. The text, color, items, and pictures in this free CV template are all fully editable. Templates for CV is more than just a resume supplier. It's a community that gathers resume and CV templates. we also offer CV examples and samples for all types of job applications. whether your applying for a fashion designer job, IT, sale representative, college student or anything else you name it… for example this page offers a unique free CV template to download completely for free. Our CV templates are tailored and designed to deliver more than just information and statistics, they have a unique style that sets them apart from the other CV templates on the web.
Unique Free CV Template
This free CV template is unique for a certain job application. For example this cv template is represented by a stylized face icon in the upper left corner. and it best fits one of the following jobs:
Fashion Designer
Sales Representative (clothes, curtains, or fabric store…)
Tailor
Templates for CV contains dozens of free CV templates all fully editable and free to download. There is also a section for free word CV templates.
Free CV Template: Getting Started
First of all press on the download button to start your download. Once your free CV template is downloaded open up the file using Photoshop. Since the free CV template is in psd. format you need Photoshop to open up the file and edit it. The reason behind making the file in psd. format is that it will be so easy for you to edit it. No need for prior experience or any Photoshop skills at all. All you need to do is open up the file and edit the layers section in the lower right corner of the software.
As mentioned before you have complete freedom to customize and edit the free CV template as you wish. Everything you see can be edited.
Free CV Template: Curriculum Vitae Sample
This free CV template serves both as a CV template and as a curriculum vitae sample or (CV sample). As you can see this free CV template is previously loaded with some text. We included this text to help guide you through writing the perfect curriculum vitae (or CV).You can use the words and sentences in this free CV template to assist you in your CV. Read the information , list of characteristics, and experiences written in this CV sample it will surely help. The template has been formatted and written in such a way that it delivers the information clearly and in an interesting manner. All the templates were designed in such a way to push you a step forward in the job application competition. Don't forget its not only you that's applying for the job, so you need the perfect CV to put you in-front.
Conclusion Free CV Template Wrap Up
Download the Free CV template, and mold it to become suitable to your taste and job application. Then use the words in it to assist you in writing yours, believe me this will help, at least it will give you an idea of what to include, that's the least. Remember a CV represents the applier so grab your free resume template and start filling it out. Make sure you check the rest of our free CV templates, they are all free to download and fully editable. Good luck hope you get the job, for any question or assistance feel free to leave your comment in the comment section below.