College Student Resume
So you're a College Student who just graduated and in search for a job. Now you need a student resume to ease your way to your new career. This article will help you build a College Student Resume that's specialized in your major or profession. You will still abide to the standard section and ordered fashion of a resume. However, we will discuss how to tweak your resume to become more suitable with your major. A College Student Resume doesn't differ from other resumes in its structural form. But it does need specific additions and tweaks to become more fit and give you an advantage over others applying as well. You will still need to learn how to write down a normal resume or you can stick to one of our ready-to-use template.
First of all, you need to ask yourself "why am I applying for the job post?" you're answer might just be for a decent salary, but this is not what the company you're applying to wants to hear. It's better to think of other logical reasons that will make you a better candidate, by making the resume reader get more interested in you. For example, if you are applying for biology research-lab job your reason is better seen if you said you're applying because you are interested in the company's research project and would like to contribute to the project. So what defines a biologist, you need to know these facts to know what to write down and what to avoid before applying your College Student Resume. Finding a job just after graduation is a tough task. So once you found one make sure your College Student Resume is the best one you can make. Jobs usually require experience, and understanding of various techniques. Make sure you the you include your college experiences in your college student resume. If you're applying for a teaching position for example, such a post requires a set of traits such as caring, understanding, and good communicating skills. So depending on the post you're applying to you must build your resume accordingly.
What Will Make My College Student Resume Better?
What makes me better? This question should roam your mind, in order to come up with the traits that you think will give you a better chance at this job post. Note that characteristics alone are not enough to write in your student resume, you need to support them with recent and past activities you've done that prove what you've written. Let's say you wrote that you're an ambitious and others can depend on you to get a job done. You need to back up such info with a recent job example, you worked and took stages at a lab for a number of months, and you should briefly state date and location at which you took the job two sentences max. Make sure you state the jobs and experiences that you think are most important first because the recruiter might not continue all the way through your list, keep in mind that there are plenty of job applications and resumes on his table as it is. Make sure to mention all academic degrees in addition to the date and location at which you attained them. Now you know that a college student resume isn't that hard to write. You just need to know the traits and characteristics needed for the position you're applying to. Try to list as many activities and experiences that are related to the topic. Even enrolling with the Red Cross is considered as a very valuable experience. Remember this is a competitive stage you must show you are better and better qualified for the job than most of those applying.
In conclusion, writing a College Student Resume is not that difficult. Now you know the steps and tips to writing one. Make sure to check our College Student Resume  sample in order to guide through the format process and it will even provide you with extra help when listing skills and experiences. In addition, you can check our College Student Resume Template that's attached to this article. It provides an easy ready to use editable paper to fill your resume. This will make your college student resume paper look more interesting and appealing. Hope you get the job your aiming at… Good Luck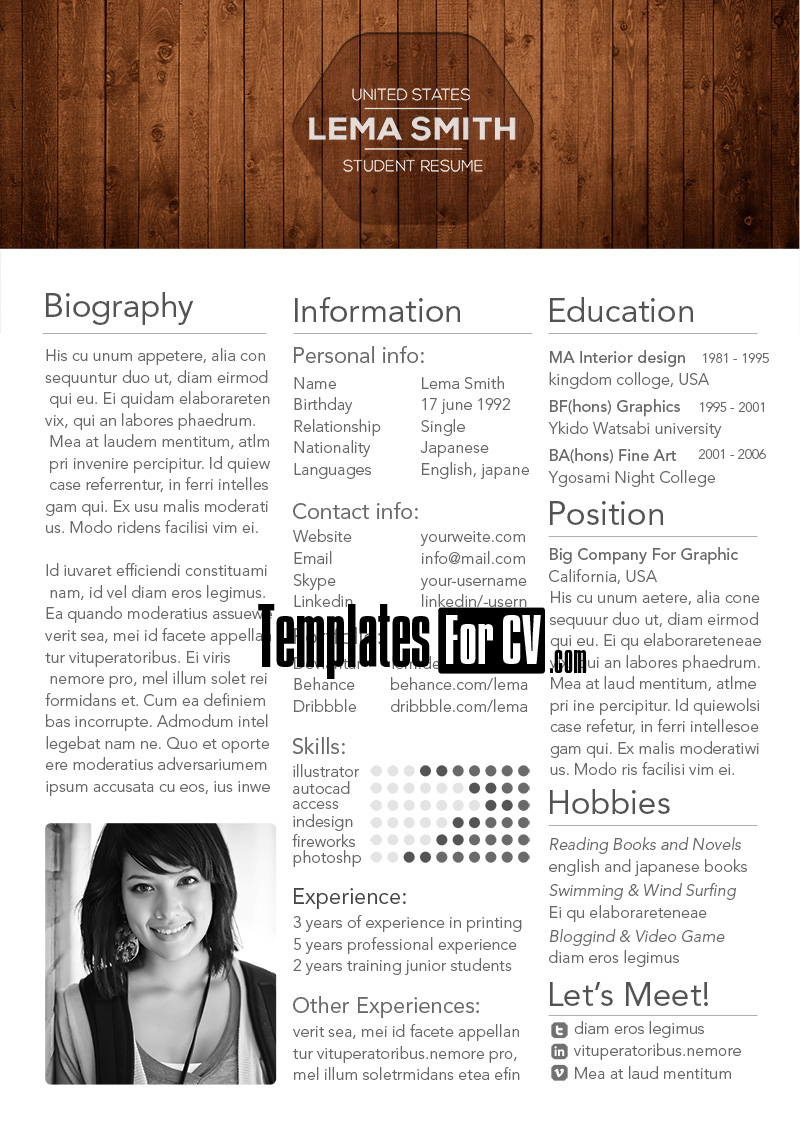 John Doe                                                                                  Email:JohnDoe@myprofessionalwebsite.com New York City, NY                                                                                                         Phone: (###) ######## Student Resume Education
BS Degree, Biology Name of University,
New York, NY, June 2014
Honors: Academic Dean's Honor list, soccer scholarship, Judo division 2, and table tennis awarded first place Athletics: Second Dan at Sensaii Dojo
Skills Highlights
Highly energetic and motivated, fast learner, strong attention to detail, good communicator, and thirst for biology and medical sciences.
Experience: Biology Lab Assistant Biology Lab, Name of University, New York, NY, June 2014 I helped in preparing specimen and slides for the lab sessions. I also aided in grading papers and giving instructions.
Professional Teacher assistant Racquet Club, New York, NY 2009-2011 Planned and set out various table tennis lessons for different ages. I taught private lessons. I also taught proper table tennis techniques and ethics for athletes.
Tutor Self-employed, 2007-2009
Tutored school students in chemistry, biology, and calculus
Aided children ages 14-18 with the fundamentals of chemistry
Volunteer Experience
Red Cross community, NY, 2008-2010
Fundraising events like benefit auction
you might also be interested in these resume templates too